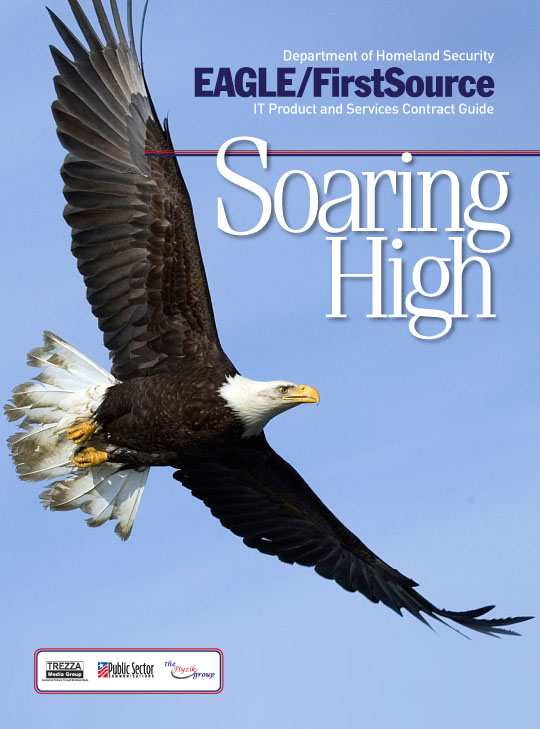 2009 EAGLE/FirstSource Contract Guide
Experience Turn-Page technology and read how these IT contracts are "Soaring High" for DHS -- and could be the model for your agency.


Welcome to the 2009 EAGLE/First Source Contract Guide.

This is the first Federal Vision Series of digital reports using Turn-Page technology and focuses on the Department of Homeland Security's EAGLE & FirstSource Contracts.

As you would with a hardcopy guide, you get more in-depth information, articles and columns that detail why DHS EAGLE & FirstSource have been so successful.

Plus, using Turn-Page technology, you'll also be able to link directly to DHS EAGLE and FirstSource websites, DHS industry providers websites, download contract listings & guides and watch videos from Ms. Soraya Correa, The Director of Procurement Operations at DHS describing the EAGLE and FirstSource programs.

EXPERIENCE Turn-Page technology! Please click on the Soaring High cover (at right).

Table of Contents


Soaring High
The EAGLE program measures its IT services success one order at a time.

Your Friendly ESO
The Enterprise Solutions Office (ESO) is responsible for acquisition management oversight of the Information Technology Acquisitions procurement process for DHS.
Reaching Out
Outreach translates into education, marketing, research and acquisition planning – and most of all customer service.
Building A Team Effort
Learn what EAGLE contractors think about how EAGLE is working so far.



"The EAGLE program is designed for IT services procurements for the DHS community," said Soraya Correa, Director of the DHS Office of Procurement Operations (OPO). "We call it a DHS-wide contract because it is intended for use by all the components of DHS."
EAGLE is a program consisting of both large and small businesses divided along five functional categories, where tasks orders (TO) are competed to fulfill your individual IT services requirements. Under EAGLE, you define your requirements. You hold the competition for TOs. You negotiate pricing. You make the award. And you choose from a pool of vetted contractors very familiar with the DHS infrastructure, because they are used to working in the DHS environment.
"Our EAGLE program has been very successful," Correa said. "We have awarded multiple orders totaling more than $6.8 billion since FY2006. It has been used by every component of DHS. In fact EAGLE has been such as success that we have begun to talk about our plans for EAGLE II."
The Evolving EAGLE
When it comes to EAGLE, CBP CIO Charles Armstrong has a unique vantage point.
A Bright Future
The OPO is benefiting from EAGLE by using the model to develop some non-IT vehicles – e.g. PACTS and OTIS.
FirstSource: First For Small Business
100% Small Business; 100% of the time! That's FirstSource.
Does Every Large Agency Need an EAGLE?
Jim Flyzik of The Flyzik Group offers insights on situations where critical mission requirements dictate a need for a quick Task Order to be issued.

EAGLE & FirstSource Contractor Contact Listings
---
EAGLE

The Enterprise Acquisition Gateway for Leading-Edge Solutions (EAGLE) is a multiple-award indefinite delivery/indefinite quantity (IDIQ) contract vehicle, specifically designed as the preferred source of information technology (IT) services for the majority of the Department of Homeland Security's (DHS) enterprise infrastructure and initiatives. EAGLE is not a governmentwide acquisition contract (GWAC). It is intended for use by DHS components.
EAGLE provides for a wide range of IT services necessary to support Chief Information Officer (CIO) requirements for IT solutions within the DHS. Multiple prime-contractor teams are available to provide solutions in each of the following five comprehensive functional categories (FCs) of services:

· FC1 – Engineering Design, Development, Implementation and Integration
· FC2 – Operations and Maintenance
· FC3 – Independent Test, Evaluation, Validation and Verification
· FC4 – Software Development
· FC5 – Management Support Services

---
FirstSource
FirstSource provides DHS with access to contractors' commercial catalogs which offer a full array of IT commodity products available in the commercial marketplace from multiple original equipment manufacturers, producers, and suppliers. The FirstSource contracts also offer associated
IT services. These contracts include, but are not limited to:
· Networking equipment
· Wireless technology
· Imaging products
· Voice recognition technology
· On-line data reporting services for order, delivery, warranty, asset, and spend tracking; and associated product maintenance, installation, and support.


---
Enterprise Solutions Office
The Enterprise Solutions Office (ESO) is responsible for acquisition management oversight of the Information Technology Acquisitions procurement process for the Department of Homeland Security.
For further information, please e-mail dhseso@dhs.gov.


Published by


Trezza Media Group

Tom Trezza

201-670-8153


Public Sector Communications, LLC

Jeff Erlichman

301-774-6660

JeffErlichman@PublicSectorCommunications.com


The Flyzik Group

Jim Flyzik

301-365-4772

Design/Production: Reuter & Associates

© 2010 Trezza Media Group, Public Sector Communications, LLC