March 2011• Volume 3 • Number 3
---
A Unified DHS:
One Enterprise With A Shared Vision
From Dialogue...To Collaboration...To Solutions


Download your OTFL DHS interactive digital PDF at www.onthefrontlines.net.
The Homeland Security community gathered recently at the 2011 AFCEA Homeland Security Conference. The program theme -- "Working Together Today for a More Secure Tomorrow" -- brought together policy makers and practitioners from DHS, ODNI, DOE, Justice, FBI, NSA, DoD and the Army, along with leaders from state/local governments and the private sector.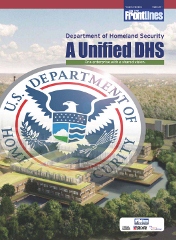 GEN Keith B. Alexander, USA, Commander, U.S. Cyber Command & Director & National Security Agency/Central Security Service, delivered the opening Keynote Address where he outlined how the cyber community is coming together to deliver a unified response to cyber threats. Click below to watch his speech.
The ongoing progress to unify DHS components was a major topic of discussion during a special broadcast of the Federal Executive Forum on Federal News Radio. The broadcast featured the views from leaders from Coast Guard, TSA, the National Protection and Programs Directorate and Citizen and Immigration Services. Click below to watch videos detailing progress on their priorities.
Finally, to get a flavor of everything that happened during three information sharing days, watch the video from Jim Flyzik, AFCEA Homeland Security Conference chair.
The entire conference can be watched on the Trezza Media Group channel on YouTube. Click here to watch.
Maturing and Strengthening the Homeland Security Enterprise
DHS was created with a very specific mission – secure the homeland. Today, it is the third-largest Federal department with 22 components.
While each component has a specific role and expertise, DHS has taken significant steps to create a unified and integrated Department that is accountable.
These initiatives are necessary to mature and strengthen the Homeland Security Enterprise. They focus on leadership development, collaboration and applications of technology that enable mission performance.
In short: one enterprise, with a shared vision and integrated results-based operations.
Inside this On The FrontLines, read about how current initiatives such as the construction of the Department's new headquarters at St. Elizabeths in Washington, DC, will bring together components throughout the Washington area.
Learn about how technology is being used as part of the Department-wide efficiency review (ER) to trim costs, streamline operations, eliminate duplication, and better manage resources across the Department.
Read about Management Integration activities designed to establish a common language and business discipline to align and execute critical initiatives that meet the Department's
mission.
All this plus commentary in the Executive Viewpoint from Jim Flyzik and the Resource pages are inside this On The FrontLines.
Be sure to share the dialogue with your colleagues.
Download your OTFL DHS interactive digital PDF at www.onthefrontlines.net.
---
Rising Expectations, Raising The Bar
In her January 27, 2011 "State of America's Homeland Security Address", DHS Secretary Janet Napolitano spelled out for the nation — "to borrow a sports metaphor — how we're fielding a bigger, better-trained team."
Follow us on Facebook!
In fact, DHS Secretary Janet Napolitano's exact words to the audience at the George Washington University were: "I urge you to visit our new 'Hometown Security' resource page on DHS.gov, and to stay connected via the Department's new Facebook page as well."
Note that Napolitano didn't announce to Americans to stay connected by visiting DHS' 22 component Facebook pages; she said to stay connected via the "Department's" one central
Facebook page "for the additional resources to better connect citizens and communities with the kinds of information and tools that DHS offers."
And though many organizational challenges still remain, just the fact that DHS has a Facebook page and Twitter accounts speak volumes about the progress DHS has made consolidating 22 cultures and infrastructures into One DHS in a short period of time.
"Over the last two years, our approach has acknowledged that the Department of Homeland Security — indeed, the whole Federal government and the military — cannot, itself, deliver
security," said Napolitano.
Read the rest of the story. Download PDF Here.
---
DHS Wants You
The DHS human capital strategy supports a unified approach to building pipelines of talent while ensuring the continued development, recognition, and advancement of the current workforce. No technology can replace the dedication, drive, skills and all around know-how of the nearly 230,000 dedicated DHS employees.
But DHS needs to recruit more talented patriots said Secretary Napolitano during her January 27, 2011 "State of America's Homeland Security Address".
Using the imagery of the iconic posters of Uncle Sam, his index finger pointed out, with the caption that read, "I Want You.", Secretary Napolitano turned her attention to the students
in the George Washington University audience, saying: "Today, DHS wants you. We want a new generation of Americans to join the fight against the new generation of threats
to our homeland."
Napolitano told them "DHS offers exciting careers in law enforcement, intelligence, and counterterrorism…we offer many opportunities for internships, and our various fellowship and scholarship programs attract top students from top academic programs across the country.
All of these positions — all of them — come with the opportunity not only to do great work in this exciting field, but to serve your nation as well."
Read the rest of the story. Download PDF Here.
---
The Magnificent Seven
The goal of DHS Management Integration is to establish a common language and business discipline and execute seven critical initiatives designed to drive transformation to a "One DHS" culture.
They are the "Magnificent Seven" — the seven DHS management integration initiatives designed to drive transformation to a "One DHS" culture.
These initiatives will allow the Department to unify strategy with operations, ensure necessary internal controls, and functionally integrate business lines across the Department and its Components explained DHS Deputy Secretary Jane Holl Lute in her testimony before the Senate Committee on Homeland Security and Governmental Affairs on September 30, 2010.
The magnificent seven are:
1. Enterprise Governance
2. Balanced Workforce Strategy
3. Transformation and Systems Consolidation
4. DHS Headquarters Consolidation Program
5. Human Resources Information Technology
6. Data Center Migration
7. HSPD-12 Deployment
In a nutshell, Lute says the magnificent seven will drive "cohesive horizontal and vertical
integration and management of Departmentwide initiatives; improve the transparency and
functionality of critical management systems; increase cybersecurity of our networks through consolidation of data centers; effectively manage real estate in the National Capital Region; and create common identification procedures within DHS."
Read the rest of the story. Download PDF Here.
---
A Unifying Campus
At St. Elizabeths, GSA and DHS are building more than a new campus headquarters, they are building a home.
The event was groundbreaking —literally.
On September 9, 2009, DHS and GSA leaders broke ground on the new DHS consolidated headquarters at the St Elizabeths Campus in Washington DC.
The first phase of the campus now under construction is the 1.18 million-square-foot Coast Guard headquarters facility.
The building uses state-of-the-art efficiency technologies, including green roofs and landscaped courtyards to capture and reuse surface water runoff. It also uses innovative heating, ventilation and air conditioning systems.
Currently DHS is housed in more than 35 offices around the National Capital Region and needs in excess of 8 million square feet of space in the DC area. Working hand-in-hand, GSA and DHS have developed a master plan to put 4 plus million square feet at St. Elizabeths. Additionally, 40 leases are being reworked saving taxpayers $163 million over the next 30 years according to DHS.
"The DHS headquarters is the largest project GSA has ever undertaken," GSA Assistant Commissioner Bart Bush told On The FrontLines in an interview after the 2009 groundbreaking.
Bush is also confident that when all is said and done – in the year 2018 — the project will "most certainly culminate in the success that Homeland Security is looking for in terms of a consolidated headquarters operation where they can create one culture for their organization, as well as, equally important, protect and defend our nation's boarders by being together in times of crisis."
Read the rest of the story. Download PDF Here.
---
Viewpoint:
One DHS – It's a Generational Thing
By Jim Flyzik, The Flyzik Group
Evolving to One DHS is like driving in Washington D.C. traffic in rush hour during a snowstorm (my apologies for using the analogy and bringing up some bad memories). Getting to One DHS will take time, have some rough spots along the way, and perhaps some tense nerves and occasional wrong turns.
Creating a common culture for any sizeable organization after a merger or acquisition (M&A) is a daunting challenge. Now consider DHS. Unlike a private sector M&A, there were no buyers and sellers in this merger, thus, no default winners or losers. It was the merger of 22 organizations, many of which had over one hundred years of culture of their own. Now layer over top newly formed offices and call them Headquarters with newly appointed
executives with oversight, management and policy responsibility.
Then throw in the fact that with each Administration, the players and priorities change and you get the picture why the evolution to being "common" is hard.
Read the rest of the story. Download PDF Here.
---
Ready, Willing and Able To Help Right Now!
Executives from some of DHS' leading technology providers — CA Technologies, McAfee, Serco, Unisys and Wyle — present practical ways IT can help enable a unified, efficient DHS enterprise. In this article, OTFL interviewed executives from some of the leading suppliers of products and services to DHS. Interviewed were:
BILL CLARK
VP, Technical Sales & Public Sector CTO
CA Technologies
DAN O'MALLEY
Public Sector Director for DHS
CA Technologies
ED WHITE
Senior Director of Civilian Business Development
McAfee
HARRY GATANAS
Senior Vice President of Defense & Intelligence Group
Serco
STEVE SOROKA
Managing Partner
Homeland Security Group
Unisys
ROCKY THURSTON
Vice President & General Manager
Wyle Information Systems Civilian Programs Division
Read about:
· Flexible Licensing Models from CA Technologies Flexible Licensing Models.
· Leveraging Leverage Current Security Investments from McAfee
· The Lifecycle Approach To Enterprise Networks from Serco
· The Cloud & Mission Critical Systems Support from Unisys
· Seeing The Full Picture from Wyle
Read the rest of the story. Download PDF Here.
---
Resources
Visit www.dhs.gov for the most up-to-date information and alert status.
Videos
Careers/Professional Opportunities
Hear from the men and women at the Department of Homeland Security.
Cybersecurity Career Opportunities
A message from Philip Reitinger, Director of the National Cybersecurity Center,
Department of Homeland Security, on the Department's expedited hiring authority to
hire up to 1,000 cyber experts over the next 3 years. The Department seeks your expertise in Cyber Incident Response, Cyber Risk and Strategic Analysis, Vulnerability Detection and
Assessment, Intelligence and Investigation, and in Networks and Systems Engineering Cyber jobs.
Learn more about Department careers at www.dhs.gov/careers.

Websites
Department of Homeland Security -- www.dhs.gov
DHS Facebook Page -- www.facebook.com/homelandsecurity
Documents
Download all at www.dhs.gov
2008 DHS Strategic Plan
The 2008 Strategic Plan serves to focus the Department's mission and sharpen operational effectiveness, particularly in delivering services in support of Departmentwide initiatives and the other mission goals. It identifies the goals and objectives by which we continually assess our performance. The Department uses performance measures at all levels to monitor our strategic progress and program success.
This process also keeps the Department's priorities aligned, linking programs and operations to performance measures, mission goals, resource priorities, and strategic objectives.
Quadrennial Homeland Security Review (QHSR) Report — February 2010
The QHSR is the beginning of a multi-step process. It offers a vision for a secure homeland, specifies key mission priorities, outlines goals for each of those mission areas, and lays the necessary groundwork for the subsequent steps.
The next step, which is currently underway, is a bottom-up review of the Department which will align the programmatic activities and organizational structure of the Department with the strategic framework set out in the QHSR.
The third and final step of this process will culminate in the Department's fiscal year 2012 budget submission.
Bottom-Up Review (BUR) Report — July 2010
The BUR provides the results of an unprecedented Departmentwide assessment of the Department of Homeland Security, begun in November 2009, to align the Department's programmatic activities and organizational structure with the mission sets and goals identified in the QHSR.
The BUR report focuses on the following questions:
• How can we strengthen the Department's performance in each of the five mission areas?
• How should we improve Departmental operations and management?
• How can we increase accountability for the resources entrusted to the Department?
The BUR will serve as a road map for these questions. The review lays a foundation for improving Departmental operations and management and increasing accountability for the
resources entrusted to the Department.
FY2009-2013 Information Technology (IT) Strategic Plan
The IT Strategic Plan articulates IT priorities for developing and delivering capabilities
and services to support the mission and business needs of the Department of Homeland
Security. The Plan was developed collectively by the Department's Chief Information Officer (CIO) and component CIOs. The plan emphasizes the use of communication, information,
and technology resources to strengthen the pursuit of core Department goals of protecting America, strengthening preparedness and emergency response, and building unified
Department-wide operations and management capabilities. This plan aligns with the Department's Strategic Plan for fiscal years 2009-2013.
Department of Homeland Security 2010 Accomplishments & Reforms
Maturing and Strengthening the Homeland Security Enterprise The Department of Homeland
Security was formed in the wake of the terrorist attacks of September 11, 2001, as part
of a deliberate and determined national effort to safeguard the United States against terrorism.
DHS became the third-largest Federal department, bringing together 22 different Federal agencies, each with a role in this effort. DHS has taken significant steps to create a unified and integrated Department, focusing on accountability, transparency and leadership development to enhance mission performance.
Science & Technology Directorate
This Science and Technology Directorate Strategic Plan defines how the Directorate identifies priorities, goals, objectives and policy for coordinating the federal government's civilian efforts to identify and develop scientific solutions and technological countermeasures to address a wide variety of terrorist and natural threats to the homeland.
It illustrates the conduct of this Science and Technology management program through daily collaboration with national laboratories, organic laboratories, and numerous other agencies of government, academia, and the private sector, both domestic and international.


---
Download your OTFL DHS interactive digital PDF at www.onthefrontlines.net.