Volume 3 • Number 1 • January 2011
On The FrontLines • NITAAC Contract Guide

NITAAC: 2011 Contract Guide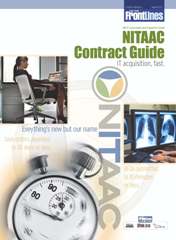 Use the CIO-SP2i and ECS III GWACs and you'll experience first-hand why NITAAC is "IT acquistion, fast".

Click Here To Download Your NITAAC Contract Guide!
Everything's New But Our Name

For more than a decade, NITAAC has provided access to the highest quality IT products and services/solutions from the market's best-of-breed suppliers.
There are literally thousands of satisfied customers through­out government—especially in the health care community—who are current, happy ECS III and CIO-SP2i customers.
15 years of exemplary service is something to be proud of, but the goal for Rob Coen, NITAAC Deputy Program Director, and the rest of the NITAAC team is to get even better.
Coen told On The FrontLines how NITAAC is continually reen­gineering to improve performance and customer service at ev­ery level. That commitment is demonstrated clearly in their new tagline—"Everything's new but our name."
Taking Stock
"'Everything's new but our name' came as a result of us taking an assessment of where we were as a program and looking at how we could be more relevant to the buying community," explained Coen.
"We looked at what we needed to improve and what we needed to do to be an agile orga­nization to serve our customers."
What NITAAC did is streamline processes, develop customer-focused initiatives and build an e-ordering system unlike any other.
"We reengineered operational processes; and our ordering systems are new," Coen said. "They have been reengineered to be very easy for our customers."
According to NITAAC, the "new e-ordering systems are so fast and easy, you can create and manage multiple RFPs for task or­ders and RFQs for delivery orders in minutes".
Customers get support from contract and program special­ists throughout the procurement lifecycle from planning through award, administration and closeout. What's more, they can count on the NITAAC Customer Support Center which answers their questions usually within 24 hours or one business day.
10 Minutes Or Less
So, let's say you want to use ECS III to buy a COTS IT product. After you've done your market research, in less than 10 minutes, you can use NITAACs new e-ordering system to upload your docu­ments; submit an RFQ and be on your way.
As a result, awards can be made in 3 days or less; micro-pur­chases and exceptions to fair opportunity in 1 day.
There's no need for postings or a special Delegation of Pro­curement Authority from NITAAC. ECS III offers a price-compet­itive alternative that pushes the envelope on delivery and avail­ability said Coen.
Federal acquisition doesn't get much faster. NITAAC calls it Acquisition 2.0. "Acquisition 2.0 means to me that we are at the cutting edge, moving forward," Coen stated.
"We are taking new technologies available to us and making them available to our customers. We provide support to custom­ers from training to guidance to statement of work (SOW) analysis right through to the awarding of the contract and task orders."
"The NITAAC Customer Support Center is staffed with special­ists who help manage communications between customers and contractors, "Coen continued.
So, forget what you think you know about federal acquisitions and get ready to discover more. More speed; more efficiency; more flexibility; more control. That's the new NITAAC.
That's IT acquisition—fast.
Inside The Guide
Contract Guide Overview
Training For 1 or 100
In Person & Online—Putting Customers First
CIO-SP2i—Still The One In 2011
Why Use NITAAC?
ECS III = IT Acquisition—Fast
CIO-SP2i Contract Holders
ECS III Contract Holders

Download Your Copy Now!