Read Using TurnPage Technology...
Then Download Your Interactive PDF and Share With Colleagues...

Volume 3 • Number 7 • September 2011
---
Data Center Consolidation In Government
Getting the most computing power in the smallest, sustainable space possible.
Which One Are You: Microwave, Oven or Crock Pot?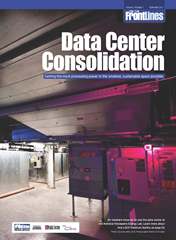 The Federal Data Center Consolidation Initiative (FDCCI) targets a minimum of 800 data center closures by 2015.
On July 20, 2011, the US CIO released the latest FDCCI compliance guidelines. You can track
Data Center Consolidation Progress @Data.gov.
Also, to keep the effort on track, the Federal CIO Council has organized a government-wide Data Center Consolidation Task Force comprised of data center program managers, facilities managers and sustainability officers from 24 agencies.
These leaders meet monthly "to review the progress of each consolidation project and ensure government-wide alignment between agency efforts, where appropriate. As its work evolves, the Task Force will serve as a 'community of practice' for agency CIOs and data center program managers to share best practices and enhance consolidation effectiveness," according to the CIO Council.
In all 373 data centers are scheduled to be closed and consolidated by the close of 2012 including 114 in 2011 and 178 more by December 31, 2012.


So, where is your agency stand in your consolidation efforts?

Is your agency an early adopter (Microwave), a "we've got plans in the works" (Oven) or "stewing over solutions and slow to adopt" (Crock Pot)?

This issue of On The FrontLines delves into what government data center managers are doing to meet the 2015 deadlines and features views from DOE's Jake Wooley, DIA's Grant Schneider, NREL's Chuck Powers and MeriTalk's Steve O'Keeffe.

Read what DOE is doing to help you consolidate in a sustainable manner; read about the Data Center Exchange and Data Center Cookbook -- soon to be available for your use; find out how DIA is using data center consolidation to improve services; and get advice from private sector providers. And learn how the National Renewable Energy Lab built a data center that uses air conditioning just 33 hours per year -- that's right 33 hours per year.

Download your Data Center Consolidation issue now.

Source: Data.gov August 15, 2011
Inside Data Center Consolidation
OMB Boosts Responsibility of Federal CIOs
For years Federal CIOs have had to do "more with less". On August 8, 2011, OMB Memorandum M-11-29 changed all that.
FDCCI + SSPP = DOE's Approach To Data Center Efficiency
DOE's Strategic Sustainability Performance Plan (SSPP) combined with the FDCCI provides a clear path to reducing the overall energy and real estate footprint of government data centers.
One Path To Consolidation: Use ESPCs
Energy Savings Performance Contracts (ESPCs) allow Federal agencies to accomplish energy savings projects without up-front capital costs. ESPCs are IDIQs managed by DOE's Federal Energy Management Program (FEMP). DOE is using an ESPC IDIQ to transform the IT infrastructure at DOE headquarters. Then leaders want to use what they have learned to help you.
The National Renewable Energy Laboratory's (NREL) Living Laboratory
When you post an 81% savings in your data center energy bills, data center managers
and budget analysts alike take notice.
OTFL Interview: Grant Schneider, CIO, Defense Intelligence Agency
The DIA CIO talks about data management, data center consolidation,
the Quad Initiative and more in this OTFL interview.
OTFL Viewpoint: Jim Flyzik on Will Budget Cuts Darken "Clouds"
Everybody is talking cloud computing and data center consolidation to increase efficiency and reduce cost. If hundreds of data centers are closed, it is intuitively obvious that a lot of money will be saved. However, getting there in light of the current spending cuts may not be so easy. It will take some upfront money to do the consolidations to achieve those savings down the road. But will the investment money be there to replace/virtualize/move equipment?
Which One Are You: Microwave, Oven or Crock Pot?
The "Data Center Consolidation Cookbook" will help IT chefs save money and improve service levels/attributes no matter where you are in your consolidation program.
OTFL Industry Roundtable: Their Best Advice
Leading private sector practitioners offer their best advice on how to save time, energy, angst and dollars when consolidating data center facilities and assets.
---
Volume 2 • Number 9 • December 2010
IT Consolidation In Government
A Concentration on IT Consolidation
Click Here To Download Your Interactive OTFL PDF.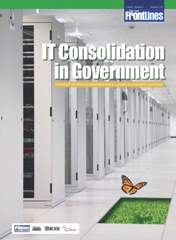 2094!!!
That's the number of data centers government admits to having that are 500 square feet or larger.
That astonishing revelation --that the feds were operating 1,000 more data centers than they thought -- has brought new attention to the goals of the Federal Data Center Consolidation Initiative (FDCCI). The FDCCI goal is to reduce the number of data centers by more than 40% by 2015.
That begs the question: What is government doing now?
Government IT professionals who are in the thick of the consolidation shared what is working for them at the recently held
IT Consolidation Executive Forum
in Washington, DC.
The audience learned from:
• Cindy Cassil, Director, Systems and Integration Office, Department of State (DoS)
• Ken Ritchhart, Deputy CIO, Customs and Border Protection, DHS
• Tom Wiesner, Deputy DIO, Department of Labor
• Paul Cosgrave -- Forumer CIO, Department of Transportation and New York City



In addition experts from DLT Solutions, NetApp and Quest Software added to their wisdom to the discussion.


This issue of On The FrontLines shares with you what these experts say is working for them. Perhaps what they are doing will work for you.


A Concentration On Consolidation


Cindy Cassil, Director, Systems and Integration Office at the Department of State (DoS) didn't mince words about the Department's data center predicament in 2007. More





Consolidations In Progress

Ken Ritchhart, Deputy CIO, Customs & Border Protection at DHS and Tom Wiesner, Deputy CIO at Labor discuss their challenges and successes.



Smaller IT In The Big Apple

Paul Cosgrave—former CIO of New York City, the IRS and Transportation—talks about consolidating the Big Apple's core infrastructure.
OTFL Case Study: The State Department
State Consolidation
Cindy Cassil shares how expensive office rents in Washington, DC helped jumpstart Department of State (DoS) IT consolidation and data center modernization plans.
Communication About Consolidation
Engage all your stakeholders—early and often. The technology of IT and data center consolidation is readily available. No one questions that. But if you build it and no one comes, what exactly have you accomplished?


Survey Touts Possible $14.6 Billion In Savings!
MeriTalk's recent research on IT and data center consolidation reveals what's on the minds of federal IT professionals.

What's On Your Consolidation "To Do List"?
Experts from DLT Solutions, NetApp and Quest say your list must include executive leadership support, following lessons learned and creating agreed to milestones.


Resources, Resources, Resources
Tons of white papers and web sites.

Download IT Consolidation PDF
---
Links To Websites, White Papers and Videos
Websites

Federal Data Center Consolidation Initiative
· American Council For Technology
· Data Center Consolidation – DLT Solutions
· FedRAMP – Federal Risk and Authorization Management Program
· Infrastructure 2.0 or Dynamic Infrastructure
· ITIL – Information Technology Infrastructure Library
· National Business Center Data Center Services – Department of Interior
· Nebula Cloud Computing Platform
· NIST
· OpenStack – The Open Source, Open Standards Cloud


---
Case Studies, Research, White Papers & Special Reports
· ACE – Automated Commercial Environment Fact Sheet - DHS
· Consolidate with Confidence and Less Cost – NetApp
· Consolidation Solutions Slash Data Center Costs - NetApp
· Datacenter Consolidation Strategies for the Federal CIO - DLT Solutions
· Department of State Data Center Consolidation Presentation – October 2010
· FDDCI Update Memo – October 1, 2010 – Kundra/Spires Effectively & Securely Using the Cloud Computing Paradigm (NIST)
· Federal Cloud Computing Initiative (GSA Presentation)
· Federal Data Center Consolidation Initiative FAQs
· Federal Data Center Consolidation Initiative Final Baseline Inventory
· Federal Data Center Consolidation Initiative Initial Data Center Consolidation Plan
· Federal IT Consolidation Research Study – November 2010 -- MeriTalk/Riverbed
· Government Cloud Computing (Dataline)
· How to Achieve IT Optimization Whitepaper- DLT Solutions
· i360Gov Special Report: Redefining 'Make Do' – DLT Solutions
· Ongoing Virtualization Activities at NRC
· Privacy Recommendations for the Use of Cloud Computing by Federal Departments and Agencies
· Vivek Kundra - State of Cloud Computing – May 2010
· Vivek Kundra Testimony on "Cloud Computing: Benefits and Risks of Moving Federal IT into the Cloud"
· Vivek Kundra, Federal CIO – House of Representative Testimony, July 2010
· Vivek Kundra, Federal CIO – The Economic Gains of Cloud Computing


---
Videos

Department of State IT Consolidation Case Study Presentation (Full Video) -- Cindy Cassil, Department of State
http://www.dlt.com/library/multimedia/department-of-state-it-consolidation-case-study-presentation
DoS: On Building The Right Team -- Cindy Cassil, Department of State
http://www.youtube.com/user/Trezzamediagroup?feature=mhum#p/c/8C487D55DD765BEB/35/lswl2_Yovdg
DoS: On Project Management -- Cindy Cassil, Department of State
http://www.youtube.com/user/Trezzamediagroup?feature=mhum#p/c/8C487D55DD765BEB/32/8O-wGgKHdpA
DoS: On Funding -- Cindy Cassil, Department of State
http://www.youtube.com/user/Trezzamediagroup?feature=mhum#p/c/8C487D55DD765BEB/33/_MhsqdvDs1g
DoS: On Long Term Planning -- Cindy Cassil, Department of State
http://www.youtube.com/user/Trezzamediagroup?feature=mhum#p/c/8C487D55DD765BEB/31/kRCwsCl-GRM
Strategies of IT Consolidation Government Panel Full Video - http://www.dlt.com/library/multimedia/strategies-of-it-consolidation-government-panel-video
On Challenges -- Ken Ritchhart, DCIO, DHS-CBP
http://www.youtube.com/user/Trezzamediagroup?feature=mhum#p/c/8C487D55DD765BEB/12/gOMTdDaCCPA
On Benefits -- Tom Wiesner-DCIO, Labor
http://www.youtube.com/user/Trezzamediagroup?feature=mhum#p/c/8C487D55DD765BEB/21/knTguvjxqNc
On New Technologies -- Paul Cosgrave, former CIO NYC
http://www.youtube.com/user/Trezzamediagroup?feature=mhum#p/c/8C487D55DD765BEB/24/Hbg7CZV9_xk
Panel Recap -- Jim Flyzik, The Flyzik Group
http://www.youtube.com/user/Trezzamediagroup?feature=mhum#p/c/8C487D55DD765BEB/22/hImWHPRTCnE

---