On The FrontLines
Volume 2 • Number 6 • September/October 2010

Health IT
As Health IT helps transform health care in America, Health IT itself is being transformed.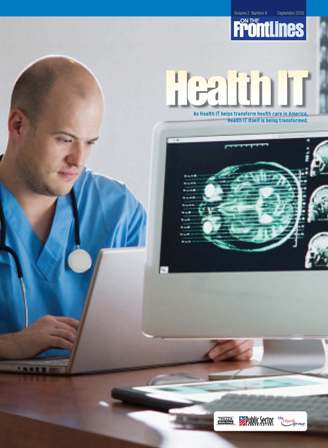 "Not another form! Just how many forms do I have to fill out?"
It's a familiar refrain millions repeat every day when they need care or service from the health care community.

But more significantly, solving this one customer service issue could be the one single benefit Health Information Technology (HIT) provides that health care consumers of all persuasions can agree on.
So, while debate remains over health care reform, there is no debate HIT can improve patient outcomes through the meaningful use of Electronic Health Records (EHRs) backed by secure information sharing using the standards provided by the Nationwide Health Information Network (NHIN).
One of those at the forefront of HIT is Dr. Doug Fridsma, Acting Director of Interoperability & Standards, Office of the National Coordinator for HIT at HHS.

Interview with ONC's Dr. Doug Fridsma

Among Dr. Fridsma's jobs are to standardize the standards development process and getting the flow of information moving so EHRs can be easily used. To do that the ONC is developing "government as a platform" for HIT standards. In this interview with On The FrontLines, Dr. Fridsma talks about the challenges and practical ways to increase the use of EHRs.

Watch videos of Dr. Fridsma along with Dr. Stephen Ondra, Senior Health Advisor to the Secretary of VA and Justine Piereman, Director, Disability Software Development & Support, Office of Systems at the Social Security Administration. The three discussed the progress, oportunities and challenges facing HIT during a recent airing of the Federal Executive Forum on Federal News Radio.

Haiti Earthquake People Locator

This issue of
OTFL
also features a profile of the
Bethesda Hospitals' Emergency Preparedness Partnership (BHEPP)
, a unique partnership between the National Naval Medical Center, NIH, Johns Hopkins Suburban Hospital and the National Library of Medicine (NLM).
BHEPP research is fine tuning the development of a Lost Person Finder application. Read how NLM's Michael Gill and his team developed The
Haiti Earthquake People Locator
, now being used in Haiti to help reunite families and friends. The Locator has become the first NLM developed iPhone app. You can download it ReUnite now!
NITAAC, HIT Providers and Resources
Learn from
NITAAC director Mary Armstead
how this NIH GWAC program is gearing up for your HIT business. Finally,five leading HIT --Booz Allen Hamilton, CA Technologies, Dell Services, Deloitte LLP, HP and Riverbed Technology -- discuss the challenges and opportunities of expanding HIT use.
Plus download CMS Meaningful Use presentations and white papers/case studies and watch more videos in the Resource Center.
In your future, Health Information Technology (HIT) will be seen as an essential element to maintaining your good health—as important as the stethoscope. Read More
Interview: Dr. Doug Fridsma, ONC
Dr. Fridsma is the Acting Director of Interoperability and Standards, ONC for Health Information Technology. He talks about creating an HIT ecosystem,"government as a platform" for HIT standards development and more. Read More
With the CIO-SP and ECS GWACs, the NIH Technology Acquisition and Assessment Center (NITAAC) continues to provide the most mature acquisition programs for Health IT products and services for govern­ment buyers. Read More
Developed by the Bethesda Hospitals' Emergency Preparedness Partnership (BHEPP), the Lost Person Finder uses IT to help reunite families and friends, allowing those searching to locate the missing via computer, mobile phone, and other media. Check out the ReUnite iPhone app! Read More
Clearly, the focus of private sector HIT providers is on the patient and improving their health care outcomes. Read More

ONC—Office of the National Coordinator for Health IT

HIT makes it possible for health care providers to better manage patient care through secure use and sharing of health information and includes the use of EHRs instead of paper medical records to maintain people's health information.
· Health and Human Services (HHS)
· Military Health Service (MHS)
· National Institutes of Health (NIH)
· Center for Medicare and Medicaid Services (CMS)
· NIH Center For Information Technology
· Bethesda Hospitals' Emergency Preparedness Partnership
Definitions/Presentations
Nationwide Health Information Network (NHIN)
The NHIN is being developed to provide a secure, nationwide, interoperable health information infrastructure that will connect providers, consumers, and others involved in supporting health and healthcare. This critical part of the national health IT agenda will enable health information to follow the consumer, be available for clinical decision making, and support appropriate use of healthcare information beyond direct patient care so as to improve health. Source: HHS
The requirements of meaningful use to qualify for incentive payments were released July 13, 2010. The Recovery Act specifies three main components of Meaningful Use:
The use of a certified EHR in a meaningful manner (e.g.: e-Prescribing); The use of certified EHR technology for electronic exchange of health information to improve quality of health care; The use of certified EHR technology to submit clinical quality and other measures.
Medicare & Medicaid EHR Incentive Program: Meaningful Use Stage 1 Requirements Overview, August 24, 2010, CMS

Medicare & Medicaid EHR Incentive Program: Meaningful Use Stage 1 Requirements Summary, August 24, 2010, CMS
Medicare & Medicaid EHR Incentive Program Final Rule: Implementing the American Recovery & Reinvestment Act of 2009, CMS
Articles
· The Meaningful Use Regulation for Electronic Health Records, Dr. David Blumenthal, New England Journal of Medicine, August 5, 2010
· Finding My Way to Electronic Health Records, Regina Benjamin, M.D., M.B.A, New England Journal of Medicine, August 5, 2010
· Advancing the Future of Healthcare with Electronic Health Records, Dr. David Blumenthal, HIT Blog, July 13, 2010
Dr. Stephen Ondra - VA - Future Vision
Dr. Stephen Ondra - VA - Opportunities
Dr. Doug Fridsma, ONC - Future Vision
Dr. Doug Fridsma, ONC - Opportunities
Dr. Doug Fridsma, ONC - Progress
Justine Piereman - SSA - Vision
Justine Piereman - SSA - Opportunities