Geospatial Trends In Government
August 2010 • Volume 2 • Number 5

---
Geospatial Trends In Government
Find out what Einstein, Aristotle and Geospatial technologies have in common--and how you benefit.

Robert Burkhardt, Army Geospatial Information Officer, puts the value proposition for using Geospatial applications in no uncertain terms.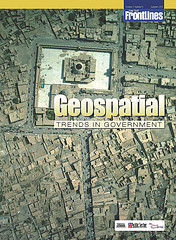 "We are all collectors and we are all sensors able to take part in the disciplined sharing of data. Disciplined sharing will save money and lives."

Burkhardt shared his thoughts during Geospatial Day in Washington, DC. Burkhardt was joined on the agenda by Geospatial experts from Autodesk, DLT Solutions, GeoEye and Google.

In this edition of On The FrontLines, you'll peer into the future as well as learning what Geospatial technologies are changing your world right now.

Read what Burkhardt views as the four major Geospatial trends driving the use of Geospatial technologies in government. Watch a video where Burkhardt describes how the 25th Army Brigade used Geospatial applications to accomplish their mission in Mosul, Iraq.

Read what leading Geospatial providers--Geoff Zeiss from Autodesk, Rich Helou from DLT, Steve Miller from GeoEye and Mike Evanoff from Google—think government will be doing more of in the not too distant future. Then watch videos as they describe the concrete benefits of using Geospatial technologies now.

Turn the page and read about the Army's BuckEye System, which provides high-resolution urban terrain imagery for tactical missions in Iraq and Afghanistan. Finally watch a video from Jim Flyzik as he describes what Einstein, Aristotle and Geospatial have in common.
All this and Resources too!





Our Geospatial Proposition
Geospatial technologies and applications make interaction with the government more transparent and it is much easier for government administrators to explain and show to people what is happening with key projects. More
Trending Geospatial
Army GIO Robert Burkhardt talks about the value proposition and major drivers for Geospatial in government—data, governance, standards and the "Big Enterprise". More
The Army's BuckEye System provides high-resolution urban terrain imagery for tactical missions in Iraq and Afghanistan. It relies on LIDAR to work. You may not know what LIDAR stands for, but if you have ever driven over the posted speed limit, you may have been trapped by it. More
Providing Geospatial Perspective
Geospatial technologies coupled with 3D visualization are changing the way we relate to our environment as we morph from being passive Geospatial data consumers to active Geospatial data contributors. Experts from Autodesk, DLT, GeoEye and Google share their visions of a Geospatial future – from the power of visualization to mapping infrastructure. More
Viewpoint: Visualize The Future by Jim Flyzik
Einstein said, "If I can't picture it, I can't understand it." Aristotle thought "It is impossible to even think without a mental picture." Jim Flyzik gives his thoughts about how Geospatial applications can change the way government delivers services. More

Video: Robert Burkhardt, Army GIO on how "Geospatial Saves Lives"
Army GIO Robert Burkhardt describes how the 25th Brigade used Geospatial technologies to save lives in Mosul, Iraq.

Resources
Videos, Websites and White Papers